Saturday, September 3rd, 2022 – Lena Katina and Julia Volkova reunited as t.A.T.u. at the Ovion show in Minsk, Belarus. The anticipated performance was saved until the last part of the show and was accompanied by a crowd of screaming fans, all excited to see the girls sing together for the first time in eight years.
Before The Show
Before Lena and Julia even arrived at the Dinamo Stadium, excitement about t.A.T.u.'s performance was already building. Videos were shared on Instagram of the t.A.T.u. songs playing at the stadium as part of the show preparation, but without the girls' presence.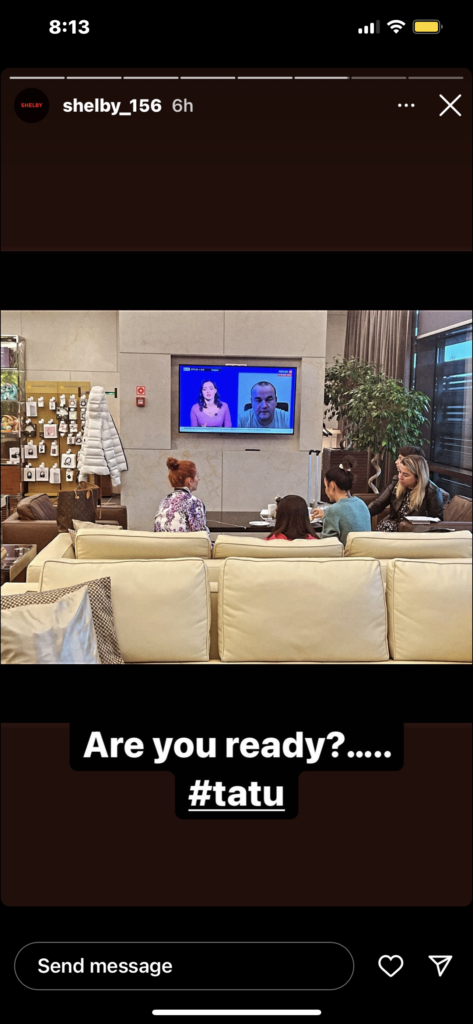 Lena and Julia flew into Minsk on Friday, September 2nd, 2022. The first photo of the girls together was shared by Lena Katina's manager on Instagram, showing Julia and Lena sitting at the airport lounge along with Julia's children, Victoria and Samir, and manager Katya Dorosh.
Later that day, another photo showed Julia and Lena, still in their travel outfits, standing together, waiting to start rehearsing. Brief videos of the rehearsal were shared soon after, showing Lena and Julia dismounting the roof of a truck and walking together onto the stage.

Although Lena and Julia were performing as t.A.T.u., the girls still had their own separate dressing rooms, as shown by journalist Oleg Pilyagin. Oleg also shot several videos backstage of Julia and Lena before their performance. In his stories he showed that t.A.T.u.'s bodyguards were very aggressive when he tried to get videos of the girls, waving their hands in front of his phone to stop him from recording and pushing him out of the way:
Oleg – "Why did t.A.T.u. and the organizers of the show invite the media? Just so they can scream at us and say, 'Get the media out of here!' What is the point?"
Oleg's backstage videos of t.A.T.u. interacting with the press also showed that Lena and Julia did not say a single word to the journalists when they tried to ask the girls questions. Instead they just posed for photos and then left:
Journalist – "…can you show me, at least with motions, that you're having for or something? Blink your eyes twice."
Before t.A.T.u.'s performance, Oleg was standing next to the truck which would bring Julia and Lena into the stadium, commenting on not being allowed to film the girls:
"It's almost time. Here is the truck – the girls are standing right there. We are not allowed to film them, even though every single journalist is accredited. But not one cares about that here. The organizers agreed and allowed us to film here, but the bodyguards came and said we cannot."
Later on Oleg shared the following thoughts:
"Lena and Julia…you have been in show business for many years. We're all saying, '21 years. Great job, girls!'. I think you need to be simpler. To forbid recording you as you are getting onto the truck so as to not have your butts recorded…are you serious? These cheap acts of putting on heirs in front of journalists, giggling and not answering a single question…this is really silly and ridiculous. You need to go by example of those who are professionals, like Philipp Kirkorov, who will not leave the red carpet until he talks to every journalist.
Ovion Show
The amount of people in the standing section by the stage definitely increased when it was time for t.A.T.u. to perform, as compared to the rest of the show. The crowd was anticipating the performance and was screaming "t.A.T.u." as they waited for Lena and Julia to make their appearance. The girls' entrance into the stadium was done in typical t.A.T.u. fashion – dramatic and exciting. Julia and Lena rolled in on top of a tanker truck that shot out sparks and fog as the audience watched them move through the stadium towards the stage. As a dramatic beat played, the girls dismounted the truck and walked to the front of the stage holding hands while fans screamed in excitement. The buildup lasted about 3 minutes as Julia and Lena made their way to the main stage. Finally, the familiar sound of the "All The Things She Said" intro began to play as the girls began their performance.
While it was noticeable that Julia had raspiness in her voice (having undergone her most recent surgery in July to correct her vocal issues), she pushed through for the entirety of the 12 minute performance. The girls performed with live vocals, using a chorus of backup singers and pre-recorded background vocals to support their live sound.
Fans got to see Lena and Julia give each other a hug at the end of "All The Things She Said", after which they performed the popular "Ne Ver Ne Boysia" and "Nas Ne Dagoniat". Throughout their performance, Lena and Julia engaged with the crowd and continued their signature hand holding.
After The Show
Obviously, t.A.T.u. fans were ecstatic to see Julia and Lena on stage again after so many years. Those who watched the show were delighted by how close Lena and Julia appeared to be during their performance, especially when the girls hugged and held hands.
Following the performance, Julia posted a photo of her and Lena on her Instagram with the caption, "We did it! Everything between us is good! Going forward we are making moves together!"
After the performance, Sergio Galoyan, the author of some of t.A.T.u.'s most popular songs, went live on Instagram for about two hours, discussing t.A.T.u.'s Minsk performance as well as answering many fan questions.
"This is not a comeback. A comeback should be in their mother country, in Moscow, like in VK Fest or a solo t.A.T.u. show. The show itself is great, expensive, professional, except the sound engineer. This show is good for t.A.T.u. fans cause they mis them, but it terms of global show-business, this is not a comeback. ABBA was a comeback after 40 years. They did a new album and they went on a tour. That's a comeback. I hope I am not too rude, but this is my point of views"
Click here to read the translation of the full livestream.
Additional Press
Several news outlets reported on t.A.T.u.'s reunion in Minsk: